OUR HANDLES
The product A-SIDER offers passengers of a sports bike an anchor / grip point that guarantees safety and comfort. Fixed to the fuel tank cap the A-SIDER is positioned within easy and comfortable reach of the passenger's hands.
Throughout the development of A-SIDER, we have taken great care to maximize the ergonomics with a smooth edge design for minimum wind resistance, using paints resistant to gasoline and abrasion whilst adhering to the European Directive for Handles "Directive 93/32 * 1999 / 24/CE. ".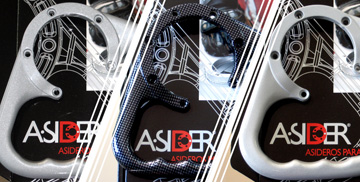 PRODUCT A-SIDER
A-SIDER is an innovative product that has been designed to meet the emerging needs of users of sports bikes.
The difficulties and lack of comfort experienced by passengers of sports and above all security and safety issues are principal factors behind the creation of A-SIDER.

Currently there are certain types of handles already available in the market that attempt to address these issues all be it with limited success. Uncomfortable straps on the passenger seat, or hard grips on the back of the bike require the passenger to adopt physical postures that can provoke back pain and are not recommendable.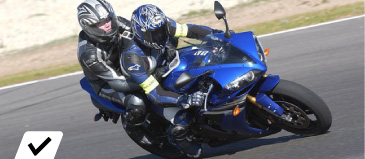 A-SIDER takes into account all these factors, providing a natural and attractive solution that respects both the aerodynamic design, and the safety of the driver and passenger.
The A-SIDER handle is fixed to the fuel tank cap and due to its edgeless design prevents possible injury to driver and passenger. Its design integrates in total harmony with the lines and the shape of the vehicle and its robustness and functionality make this product the perfect solution that the market demands.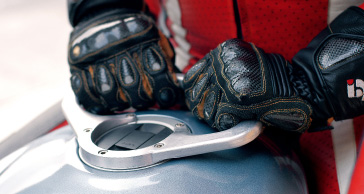 A-SIDER is synomonous with both rider and passenger comfort. The rider no longer has to suffer the passenger weight pressing and forcing against them when breaking and the passenger no longer has that classic lack of security and grip when the bike accelerates rapidly.
REFERENCES
Currently, our product can be installed on major Japanese motorcycles (HONDA, YAMAHA, KAWASAKI and SUZUKI) and European (DUCATI, BMW, TRIUMPH, MV AGUSTA, CAGIVA).
EASY ASSEMBLY / FIXING OF HANDLES

FITTING IN JUST

5

MINUTES
Not only is A-SIDER user friendly when riding the bike but it's really user friendly at the point of fixing it to the bike.
Extract the original screws from the fuel cap; put the A-SIDER line the A-SIDER up with the original plug holes.

Next step is to simply introduce the longer screws (provided in the assembly kit) and fix with the tool provided.
The estimated assembly time is 5 minutes.
Instructions and all required for assembly are of course provided.

VIDEO ASSEMBLY / FIXING OF THE A-SIDER